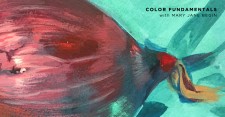 Mary Jane Begin Offers Courses on Color Theory and Character Illustration
San Francisco, CA, April 28, 2017 (Newswire.com) - CreativeLive, the world's leading creative online education platform, is excited to announce an upcoming course with My Little Pony Illustrator Mary Jane Begin. With an impressive background as an award-winning illustrator and author of children's picture books, a Rhode Island School of Design graduate and professor in the Illustration Department at RISD, Mary Jane Begin will be visiting CreativeLive on May 4-5. She will be teaching two online courses, available to students free via live streaming.
The first course she will be teaching is on 'Color Fundamentals', giving students an overview of color principles and how to apply them. The second course will be 'Illustrating Characters and the Stories They Tell' leveraging her successful background as a children's picture book illustrator.
"I'm really excited to collaborate with CreativeLive to teach Color Theory and Character Illustration. These foundational courses will be a great addition to their existing curriculum and hopefully will provide Illustrators the direction they need to become successful creatives," stated Mary Jane Begin.
Lara McCormick, Head of Design at CreativeLive shared, "This is the ideal situation for our students–having an esteemed illustrator and professor like Mary Jane Begin–coupled with the accessibility of (free) online streaming courses so that students from anywhere can learn these important design principles to grow their knowledge base. There is a level of inclusion here that is really important to us as a company."
Visit CreativeLive to live stream the courses on May 4-5 or purchase the course for anytime access.
Source: CreativeLive
Share: