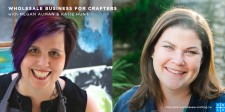 Renowned Instructors Offers Detailed Lessons on How to Grow A Handmade Business
San Francisco, CA, April 21, 2017 (Newswire.com) - CreativeLive, an online education startup targeted toward aspiring creatives, has recently announced a new weeklong bootcamp offering a complete guide to developing a wholesale business. The Wholesale Business for Crafters bootcamp, being livestreamed for free on CreativeLive on April 24-28, will include courses such as 'A Beginner's Guide to Wholesale' and 'Sell Your Product to Retailers.' The purpose of the bootcamp is to help crafters better understand how to set prices, find the right sales tools, build a mailing list, and create an effective marketing plan.
Jim Catechi, Online Content Producer at CreativeLive, states, "Having an immersive weeklong bootcamp with respected industry instructors Megan Auman and Katie Hunt will provide the accessibility and immersive education that our audience needs to grow a successful craft business."
Wholesale Business for Crafters will be led by designer, metalsmith, educator, and entrepreneur Megan Auman and Tradeshow Bootcamp founder Katie Hunt. Megan Auman has built a multi-faceted business around her passion for great design and sustainable business. Katie Hunt is a well-known craft business strategist and mentor to creative entrepreneurs.
"Taking this workshop, and making the leap to wholesale, is a valuable step for any handmade business. Wholesale lends credibility and consistency to a business, and is a very real path to growth," states CreativeLive instructor Megan Auman.
"I built my CreativeLive classes to provide makers with concrete solutions and actionable advice so that they feel confident and empowered when launching or refining their wholesale program. These classes are a great starting point for anyone new to wholesale or looking to rework their catalog, work with sales reps or expand their wholesale marketing efforts. In this bootcamp, please will come with questions, leave with answers," said CreativeLive instructor Katie Hunt.
With over 1,500 online classes with lessons from recognizable names such as Tim Ferriss, Debbie Millman and Sue Bryce, the CreativeLive platform specializes in teaching basic and advanced concepts in areas such as photography, art & design, money & life, audio, and craft. CreativeLive courses range from hard skills courses like hand-lettering and drawing basics to soft skills, such as how to optimize your Etsy store or better manage your money.
Visit CreativeLive to stream the bootcamp for free on April 24-28 or purchase the course for anytime access.
About CreativeLive
CreativeLive is the world's leading creative education platform, with more than 10 million students consuming more than 2 billion minutes of video across its online channels and iOS apps. Featuring classes in photography, video, design, music, craft and entrepreneurship, CreativeLive's roster of teachers draws from the world's top experts — Pulitzer, Grammy and Oscar winners, New York Times bestselling authors, thought leaders and legendary entrepreneurs.
Launched in 2010 and now reaching every country on the planet every month, CreativeLive has created more than 1,500 classes, 25,000 lessons, 2,000 articles and over 10,000 hours of highly curated HD video education since its inception. A combination of live and pre-recorded classes both online and in-app allows never-before access to the best teachers and a global community of students. Live classes allow free, real-time interaction with these experts and students, while pre-recorded videos allow students to learn at their own pace.
CreativeLive online
http://creativelive.com
http://facebook.com/creativelive
http://twitter.com/creativelive
Source: CreativeLive
Share: